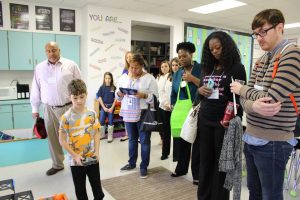 Two Shelby County schools recently hosted site visits in conjunction with the 26th annual Learning Forward of Alabama Fall Conference held November 17-18 at the Wynfrey in Hoover.  Oak Mountain Elementary and Oak Mountain High hosted the site visits, which traditionally are a popular part of the conference.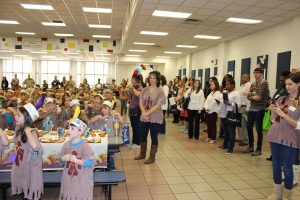 Participants who visited Oak Mountain Elementary chose to visit a Leader In Me school.  Visitors learned about the process to become a Leader in Me school and visited classrooms to meet with students who shared their leadership notebooks containing academic and behavioral goals.  The visitors also saw the Kindergarten Thanksgiving Feast and learned how the pilgrims and Native Americans might have used the 7 Habits which are emphasized in the Leader in Me program. Other areas visited included and ESL classroom and robotics.
At Oak Mountain High School the site visitors participated in Instructional Rounds.  They joined groups to observe classes and were able to converse with teams about the benefits of the process.
District leaders participated in the site visits to engage in meaningful conversations with visitors.  Participants voiced overwhelmingly positive comments about their experience.