Students participated in Pi Day activities today during class. Students from the 8th grade came and led students in activities centered around the concept of Pi.
In an effort to continue with our current skill, students refreshed their skills on converting fractions, decimals, and percents during their warmup time! Here's the warmup we did together in class today: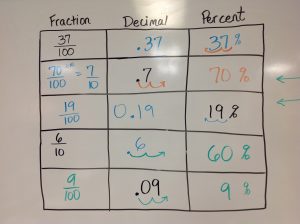 Use these notes to help you complete homework tonight! If you need additional notes, please refer back to my post on March 7th which gives detailed procedures to make these conversions!
HOMEWORK FOR TUESDAY NIGHT, MARCH 13TH
HW for Tuesday night 3-13-2018