We are continuing our practice with the Percent Proportion each day in class!
The following picture is an example of some of the problems we worked together as a whole class to make sure everyone understands the procedure to solve a percent proportion. These are #9 and #11 from our classwork: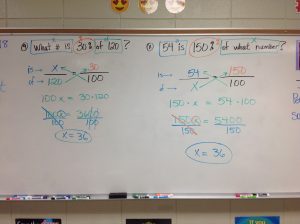 Homework is from the same worksheet, but only the even ones! Students are to complete only the even #s for homework! Remember to show your work!!!!!
HOMEWORK FOR WEDNESDAY, MARCH 14TH