Helena High School and Oak Mountain High School both launched a new initiative this year aimed at supporting student achievement, encouraging participation in extracurricular clubs, and helping students develop time management and leadership skills.
The initiatives, Pack 60 at Helena High School and Soar 60 at Oak Mountain High School, are structured basically the same and have radically changed the lunch period at both schools.  Previously with the traditional lunch setup, students would have a class period interrupted and various groups of students would rotate to lunch at varying times.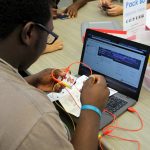 With Pack 60 and Soar 60, there is a one-hour lunch block that provides 30 minutes for lunch and 30 minutes for students to participate in a scheduled activity.  There are no classes scheduled during this block which minimizes disruptions to the learning environment.  During the 30 minutes of activity time, students can choose to attend an organizational meeting, visit a teacher for extra assistance with homework or preparing for a test, visit the media center to work on the computer or participate in maker spaces activities such as computer coding or games, or simply hang out with friends.
"One of the real benefits for me as an administrator is not having to interrupt class time for lunch," said Helena High Principal April Brand.  "Before students would have to go to lunch in the middle of a class and then come back and pick back up where they left off.  It would also take us several periods to run lunch and now we are done in 60 minutes."
Not having a rotating lunch did create an issue of feeding all of the students within the one-hour time frame since both schools have large student populations.  To accommodate, both schools have extended the lunchroom to other common areas within the schools. Students can now be found eating at regular and high-top tables in the hallways, outside at picnic tables, in teacher's rooms, or in the lunchroom – which is still a popular destination for most students.
Another accommodation was the addition of the gymnasium concession stands to serve meals from, along with new vending machines that offer pre-packaged peanut butter and jelly sandwiches, muffins, drinks, and other assorted items.  Students using the vending machines access the items by putting in their codes for lunch, similarly to how they would purchase meals in the cafeteria.
Depending on their schedules, students can choose to either eat during the first 30 minutes or the second 30 minutes, which also helps to ensure an entire 60-minute block to feed all students.  The times they choose to eat may vary from day to day, based on what meetings or activities are scheduled for those days.
Anna Kathryn Sharp, a ninth-grader at Helena High School, said the new schedule took some getting used to, especially for the freshman who were accustomed to a much more structured schedule.  But, she loves it now for a variety of different reasons.
"I have friends from every grade level, so I really enjoy the time I can spend with them during lunch," Sharp said. "I am also an athletic trainer and I am in the band so it would have been really hard for me to participate in club activities after school.  I love that there is time built in now where I can participate in activities like HOSA and FTA.  I also can go get assistance from my teachers or fellow classmates with homework."
Emma Wilson, a senior at Oak Mountain High shared similar reasons why she believes the new initiative has been popular with the students at her school.
"I see Soar 60 as a fantastic way to not only connect with friends I don't have classes with, but to also attend club meetings, catch up or get ahead on homework, or to study," Wilson said.
Providing the built-in time for extracurricular activities and student intervention was an important factor for both principals.
"Many students have to ride the bus and can't come early or stay late for clubs or for intervention," said Brand.  "We have seen our participation in our clubs and organizations go way up."
Dr. Kristi Sayers, principal at Oak Mountain High agreed, noting that attendance in one organization at her school which is geared toward minority students has significantly increased.
"Before, this club was almost non-existent due to lack of attendance," she said. "Now we have a large number of students who are participating because it is being offered during the day instead of before or after school."
Each Monday, students meet in advisory and work with an advisory teacher to develop their schedules for the rest of the week.  Each day might be different depending on whether the student has a club or class meeting, needs to seek assistance from a teacher, study or do homework in a teacher-supervised quiet room, or participate in another activity.
For students who are struggling with grades, there is also required academic intervention that occurs during this time.  For those students, they eat lunch in the teacher's room and get extra assistance during the entire 60-minute block.
Teachers are also seeing the benefits of the new initiative due to the time it now gives them to meet in professional learning communities.  Teachers now have built in time to meet in department, content area, or grade-level meetings during this designated time, rather than staying after school.
And even though some people might perceive this to be too much unstructured time for the students, they say it is actually teaching them to be responsible and make good decisions.
"It is our responsibility as students to know where we are supposed to be," said Sharp.  "That is one reason why we make our schedule with our advisors.  And the quiet rooms have been really popular.  It gives us a place to get homework done, get assistance from our peers if we need help with a particular subject, and to study."
The principals have also noted a significant decrease in student discipline referrals and tardies.  They attribute that to a couple of factors – one being that detention is now held during this time frame – and the second being the increased amount of time students are getting to socialize with each other.
"I think it has been very beneficial for them to just have a little time for a mental break," said Brand.  "It is giving them time to relax and talk to their friends and then when it is time to go back to class they are ready to get to work."
The students agree, with many stating they feel the down time has proven to be beneficial in many ways.
"I feel much more connected to my friends," said Wilson. "Having that time, which is kind of like high school recess, gives us time to just calm down and relax.  I feel my peers would agree with me when I say Soar 60 is a great idea."