Shelby County Schools teachers and administrators returned to work on August 4 for  District Professional development which included Summits for general education teachers for all three grade spans of elementary, middle and high.  Library Media and Fine Arts teachers, Career Technical Education teachers, Gifted teachers and English-as-a-Second Language teachers also attended back to school professional development meetings held at various locations of the county.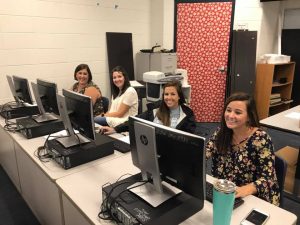 Elementary school general education teachers met at Oak Mountain High School, where they learned more about the district's plan to expand the Leader in Me Program to all elementary schools. Elementary teachers were also trained on a new internal Google sites linked to the Shelby County School District website developed to provide Math, Science and English Language Arts (ELA) resources to Shelby County teachers.  These resources can only be accessed by Shelby County employees with @shelbyed.org email accounts.
The Elementary Summit also provided teachers training on dyslexia, math fluency for K-2 students, data analysis, deescalating behavior, and changes to third and fourth grade math curriculum. Teachers also were given an introduction on the Alabama Department of Education's Educator Effectiveness program and information was provided to teachers interested in pursing National Board Certification.
At the Middle School Summit, held at Calera Middle School, teachers were given an overview on how to improve student engagement using Breakout EDU kits.  The Breakout EDU kit allows for the facilitation of games where players use teamwork and critical thinking to solve a series of challenging puzzles in order to open a locked box. Teachers were encouraged to use the kits and utilize games developed by Breakout EDU or develop their own games to teach various instructional concepts.
Middle School teachers also learned about literacy strategies for ELA and about various technology resources through sessions led by the Shelby County Technology Resource Teachers.
The High School Summit, held at Helena High School was nearly almost entirely teacher-led.  Various teachers taught sessions on topics such as Grit to Gr8T and the Growth Mindset; creating and utilizing electronic portfolios in the classroom; and integrating Science, Technology, Engineering, Arts, and Math into all classrooms just to name a few.  High school teachers also heard from the Shelby County Drug Free Coalition and Bradford Health Services regarding drug trends with teenagers.
High School teachers also learned how to use the deliberative forum method in the classroom to help students learn problem solving tools and skills to help them navigate successfully in today's politically polarized culture.  Unlike a typical debate structure, where students are forced to take sides, the deliberative forum method teaches them to name and frame issues and collaborate on options for solutions.