Jeff Norris, a sixth-grade math teacher from Oak Mountain Middle School, was honored on December 6 by the Shelby County Board of Education and the Shelby County Schools Education Foundation as the 2022 Middle School Teacher of the Year.
Norris has 18 years of experience as an educator working for Shelby County Schools, including ten years as a teacher and eight years as an administrator. He has taught at Oak Mountain Middle School for the past three years. Norris was serving as principal of Helena Elementary School at the start of the COVID-19 pandemic when he realized his true passion has always been direct instruction with students.
Norris serves in numerous leadership roles at OMMS and with the school district. He is the sponsor of the Phase I Community Service Club and serves as coach of the Scholar's Bowl Team, Math Team, and Book Olympiad. He also serves on numerous committees at the school and district level as well as serves as a presenter for various conferences.
As a teacher, Norris plans lessons that keep student engagement at the forefront and will admittedly go to extreme lengths to "hook" his students. He has recently attended professional development, completed research, and implemented the concept of classroom transformations – a physical transformation of the classroom environment to set the tone for learning that immediately grabs students' interest while providing a theme that ties standards to activities.
Norris described dressing up as the video game character Mario and transforming his classroom into the Super Mario video game during a series of lessons entitled "Level Up" from a previous year teaching Advanced ELA. This year, his math students have completed a "Fraction Things" unit where the classroom transformation was based on the popular television show, Stranger Things. Students practiced math problems in the "Upside Down" world underneath their tables while also incorporating two other well-known locations on the show – the ice cream shop, Scoops Ahoy, and the Byer's brother's fort, Castle Byers.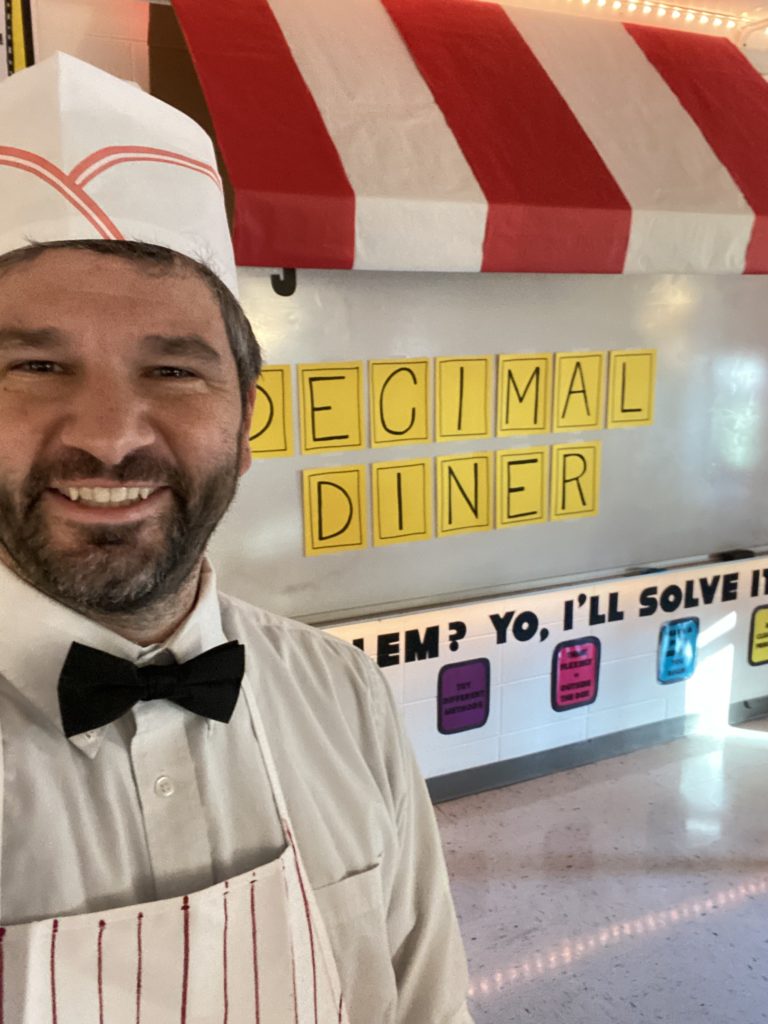 Students have also enjoyed waffles and learning how to add, subtract, multiply, and divide decimals in the "Decimal Dinner" and learning long division during the "Touchdown Division" unit which included a ten-foot goal post constructed by a parent. Most recently, Norris' class joined the entire sixth grade to participate in a "Sixth Grade Rocks" Day" where the math teachers helped students practice Mullet Ratios complete with finding the best "business in the front to party in the back" ratio.
In addition to classroom transformations, Norris has also become a fan and self-proclaimed "missionary" of the "Build Thinking Classrooms in Mathematics" book by Peter Liljedahl. In the book, Lijedhal outlines and advocates for fourteen practices to instill a culture of thinking in classrooms.
"Several of these practices have already made an enormous impact on my student's learning," Norris explained.
Norris said students in his classroom are now placed in random groups of three to work on complex thinking problems while standing at vertical, non-permanent surfaces such as a whiteboard, blackboard, or window. This is based on evidence that students sitting and working on math problems at their desks is not conducive to thinking.
"Rather than students mimicking their teachers' thinking at all times, a "thinking classroom" develops students' creativity and willingness to try new things," Norris said. "Other benefits include better collaboration skills, elimination of social barriers and increased math knowledge mobility (applying mathematical practices to other concepts."
Norris said he actively chooses to build resilience in a variety of ways. Beside his classroom door is a mirror that says, "This is a math person." He discusses with students that the only requirement for being a "math person" is: number one – being a person – and number two – doing math.
"From that moment forward, I tell students that the excuse of 'I am not a math person' is no longer valid," he said. "In fact, I firmly tell them that excuses do not have a place in my classroom. I teach students to take pride in their work, that their effort makes a difference, and that I will accept nothing less than their best. I also tell them I hope they expect the same from me. I constantly tell my students that I want to be their hardest class and their favorite class each day, and if that happens, then I have been successful."