Family, friends, and colleagues packed the Central Office auditorium for the January 3, 2019 board meeting to witness Dr. Lewis Brooks being sworn in as the 25th Superintendent of Education for Shelby County Schools.
Shelby County Probate Judge Allison Boyd presided over the swearing-in ceremony. Dr. Brooks placed his hand on his grandmother's Bible to take the oath of office with his wife, Dr. Resia Brooks, and sons, Jordan and Justin, standing by his side.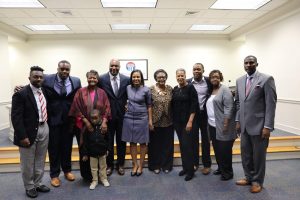 "I'd like to just thank the citizens of Shelby County for supporting me in this endeavor and I'd like to thank everyone who I've had the opportunity to work with over the years who have supported me," Brooks said. "I probably would miss people if I called names but I want to certainly thank my wife and sons for their support, my mom, my sister, and my family. My mother-in-law and one of our closest family friends for being so supportive of us and I'm just excited about this opportunity."
Dr. Brooks grew up in the Hueytown area. Upon graduation from high school, he attended the University of Montevallo on a basketball scholarship. He holds a Bachelor of Science degree, a Master's degree, and an Educational Specialist degree, all three in Education from the University of Montevallo. He received his Doctor of Education degree from Samford University.
Dr. Brooks has been an educator in the State of Alabama for 28 years and throughout his career has served in many capacities including teacher, principal, Elementary District Coordinator, Middle School District Coordinator, Assistant Superintendent of Administration, and Deputy Superintendent. After 24 years of working in the district, Dr. Brooks was elected Superintendent of Shelby County Schools on June 5, 2018, following the retirement of three-term superintendent Randy Fuller.
Dr. Brooks serves on many committees in the Shelby County community including the DAY Program board of directors, the Educational Leadership Advisory Committee at the University of Montevallo, and has received numerous awards for his service. He is the recipient of the University of Montevallo's "Distinguished Alumni Award" and "Outstanding Alumnus Award", the Alabama Association of Prevention and Support Services "Sue B. Adams Leadership Award", the Samford University "Learning For Life Award", and most recently, the recipient of Samford University's "Orlean Beeson School of Education Featured Alumnus Award" which highlights alumnus for exceptional character, leadership, and professional achievement.
Dr. Brooks also serves on the personnel committee at Sixth Avenue Baptist Church and the University of Montevallo National Alumni Board of which he serves as the vice president of awards and recognition. He is currently serving as an adjunct professor for Samford University.
With his passion for teaching, learning, and leadership, Dr. Brooks spends a great deal of his time mentoring and supporting young people. He believes that his purpose in life is to give more to the world than he takes away and to be a servant leader in all that he does.
Dr. Brooks is committed to a continued and renewed focus on excellence for Shelby County Schools. As the district continues its vision of becoming a model of excellence in education, Dr. Brooks' leadership is driven by:
School Improvement & Safety
Community Partnerships
Innovation & Creativity
Leadership Development
Organizational Commitment
Recruiting & Retaining Highly Trained, Motivated Employees