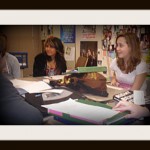 First of all, regular school hours tomorrow.
Homework: Read chapter 7 of Great Expectations and fill out your rolesheet so you'll have something to help you in the literary circle discussion tomorrow. You'll be discussing chapters 1-7, not chapters 1-10 as previously put on the calendar. (These "snow days" and odd hours take their toll!) (Pic of one of last year's lit circles in this post.)
Today in class we finished taking sequence of events notes, listened to chapter six being read aloud, and turned in vocabulary unit 4. If you were absent today, make sure you are caught up with these.